Discover how the Pros get Iconic Guitar Tones with 30 year veteran Audio Engineer David Wills (Whitney Houston, Michael Jackson, Diana Ross, Chicago, Earth, Wind & Fire)
Complete Online Video Course with 8 modules
Lifetime Access for just $197
Over 7 hours viewable on any device
Over $300 in free bonuses
Includes blueprints for all major Guitarists / Genres
The Original Guitar Tone Encyclopedia that's trusted by Thousands of Guitarists like you
The single place to hear each and every part of your guitar tone signal chain broken down into their individual elements so that you can emulate any tone you wish. An online library of video modules that take you on a tour of the decades of guitar masters and how tones have been built by Jimmy Hendrix, Eric Clapton, Jimmy Page, Brian May, Keith Richards and Eddie Van Halen.
8 Modules Guaranteed to Deliver KILLER Guitar Tone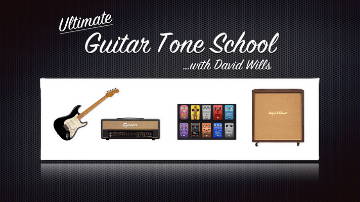 In the introduction we'll learn about the relatively short history of the electric guitar. We'll see an overview of the entire course and all the variables in the signal chain from pickup to speaker.
Breakdown of course subjects
History of the Electric Guitar
Variables in Signal Chain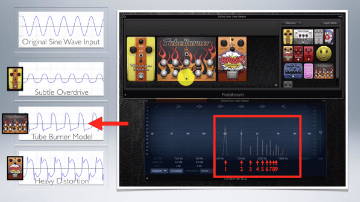 Have you ever considered exactly what tone is? In this module you'll discover exactly how tone is produced including how distortion produces odd and even order harmonics that sound so good.
What is Sound?
Understanding Standing Waves
Understanding Harmonics
Nodes and Antinodes
Harmonic Content on Guitar String
Harmonics produced by Distortion
Understanding Modulation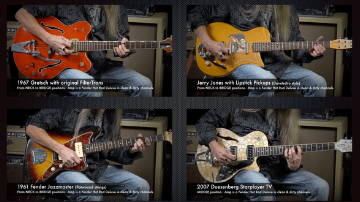 Have you ever wanted to hear a wide variety of modern and classic guitars? In this module we break down exactly what makes each Strat, Tele, Les Paul, Semi Acoustic and Lipstick guitar work.
Main Guitar Types
Pickup Demonstrations (all positions)
- Fender Stratocaster
- Fender Telecaster
- Epiphone Les Paul
- Epiphone 335 Dot
- 1967 Gretsch with FilterTrons
- 1961 Fender Jazzmaster
- 2007 Duesenberg Starplayer TV
- 1969 Gibson Les Paul with Lollar Imperials
Guitar Controls
Guitar Woods
Necks
Scale Length
Pickup Placement
MIDI Pickups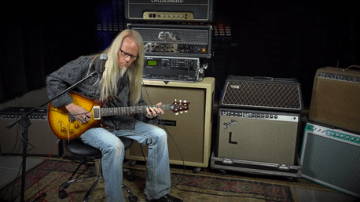 Ever wondered exactly how Guitar Amps work? In this module you'll see a tube amp built from the ground up and understand exactly how precise gain staging gets you the sound you crave.
Overview
DIY "Lamington" Tube Amp
How do Tube Amps work?
Tone Stacks
Reading Schematics
Building the "Lamington" Tube Amp
Gain Staging
- Fenders
- Marshalls
- Hi Gain
Amp Effects Loops
Amp Switching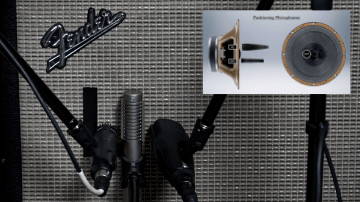 Matching impedance in series and parallel. Miking up amps. Blending and positioning microphones (both dynamic and ribbons) are all covered in this module.
OverviewSpecifications
Series/Parallel
Impedance Matching
Miking up Amps
Microphone Positions and Blending
Using Dynamic Mics

Using Ribbon Mics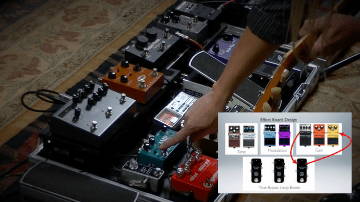 Overdrive, Distortion & Fuzz. Compressors & Noise Gates. Flangers. Phasers. Chorus. Tremolo/Vibrato. Rotary. Ring Modulators. Wah-wah. Pitch Shifters. Delays. Reverb. Loopers. Effect Order. Buffers.
OverviewGain (Overdrive, Distortion & Fuzz)
Dynamics (Compressors & Noise Gates)
Flangers
Phasers
Chorus
Tremolo/Vibrato
Rotary Speaker Emulators
Ring Modulators
Wah-wah
EQs

Pitch Shifters
Delays
Slapback
Rockabilly
Ping-pong
Patterned
Reverb
Loopers
Effect Order
Buffers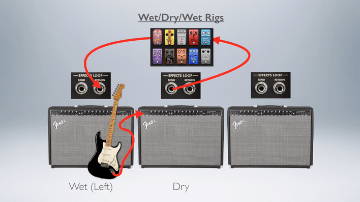 In this module you'll discover every type of rig that's out there. Pedalboard design. True Bypass. Loopers. Effect Loops. 4-Wire Setup. Wet-Dry Rigs. Wet-Dry-Wet Rigs.
Overview
Pedalboard Design
True Bypass
Loopers
Effect Loops
4-Wire Setup
Wet-Dry Rigs
Wet-Dry-Wet Rigs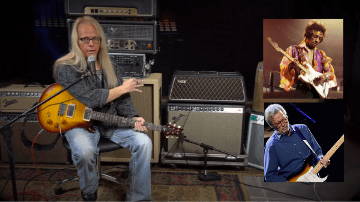 After everything we've learned in the course we can now easily build the iconic tones for every decade. From BB King to SRV. Hendrix to Clapton. Van Halen to Brian May.
Fender Era
- Chuck Berry
- BB King
- Keith Richards
- Stevie Ray Vaughan
- Brian Setzer
- Brent Mason
Marshall Era
- Jimmy Hendrix
- Eric Clapton
- Jimmy Page
- Joe Perry
- Billy Gibbons
- Slash
High-Gain Era
- Eddie Van Halen
- Randy Rhoades
- Zakk Wylde
- Eric Johnson
Vox Era
- Gretsch / Vox Combo
- Duesenberg / Vox Combo
- Brian May

Over $300 in Free Bonuses!
BONUS 1 : PAUL JACKSON JR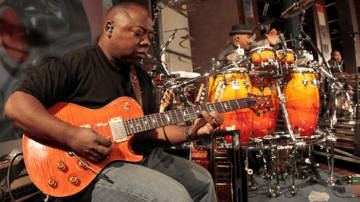 Paul Jackson Jr. is one of the most recorded session guitarists in history. We talk to him about how he's been able to nail down a dozen different tones a night in the house band on the Tonight Show and American Idol.
BONUS 2 : BOB BAILEY (BOSS PEDALS)
Bob Bailey is the Head Honcho at BOSS pedals. We caught up with him at one of Hollywood's most legendary rehearsal studios to get the low down on correct pedal order and some of the secrets inside some of the most popular BOSS pedals.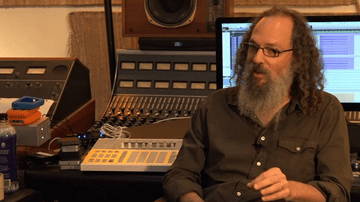 Andrew Scheps is a Grammy Winning Audio Engineer who has worked with Red Hot Chili Peppers, U2, Greenday and Metallica. In this exclusive interview, Andrew discusses how to record and mix guitars in the manner that has kept him one of the busiest engineers in the world.
BONUS 4 : BRANDON MONTGOMERY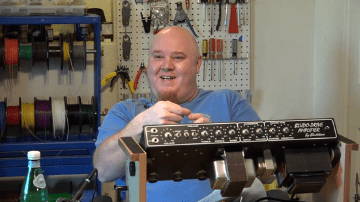 Brandon Montgomery is a highly sought after amp designer who makes high end boutique amps for Carlos Santana, Eric Johnson and many others. He breaks down the exact methods that each classic amp breaks up and gives you a panoramic view of amps through the decades.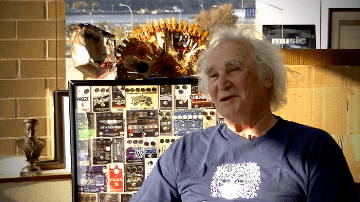 Mike Matthews is the founder of Electroharmonix who some call the father of the effects pedal. Hear the backstory of how Electroharmonix got its start and even a story or two about Jimmy Hendrix.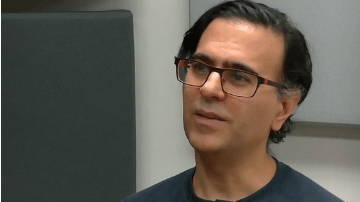 John Pisani is the Chief Engineer at Electroharmonix. Get the inside scoop about how some of your most favorite effects pedals got their start and how to get some breakthrough sounds on your pedal board.